Encuentra Tu Próximo Cadillac
Mantenga su Vehículo con Nosotros
Tenemos un servicio completo con técnicos capacitados a su disposición.
Nuestras Reseñas
We appreciate Benito's (salesman) effort to assist us from purchase and thereafter. He's friendly and easy going, he never pressured us during the buying process. More importantly, once we owned the vehicles (we bought two), he offered to get involved in maintenance/warranty issues we experienced shortly (within less than two months) of owning the cars. He put us in touch with the right points of contact and did leg work to ensure our issues were resolved. Follow up/communication is a big thing to us and Benito tried to stay in contact. Benito seems to want to do right by his clients so I recommend him if you need a nice guy in your corner. Honorable mentions: Jason - Service Manager and Jeff- Service Advisor; also very helpful, courteous, and nice to work with.
Jeff Dial is a fabulous service advisor. He treats me like I am his only customer.
They took care of my issue in a timely manner and may car looked great when I got it back.
It was an amazing experience! I would definitely recommend this place and her she was patient and really worked with us! Would definitely go back!!
These guys killed with their selection, courtesy, and overall attentive staff. I would recommend them to anyone I know.
Sales person (Felix) Help us in holding the car because we come from another state of louisiana
It really surprised me how fast they work to took care of me, rapid responses, excellent customer service WOW! Beyond words can express. THANK YOU!
My 2021 XT5 died while driving in Galveston,tx. Got it started and took it to Classic in Galveston. They said it was the fuel pump which they said was nationally back ordered and could take months. They had no loaners to give me. I called Big Star and they said they would pick it up and get me a loaner. They picked it up and the next day called to say it was fixed. No loaner-my car was ready!!!! They are awesome. Will never go anywhere else!!!!
I ordered my car and I never had to make one call because my salesman kept in contact with me the entire time.
We had such a pleasant experience. Everyone was kind and helpful. And tried very hard to get us the deal we wanted.
Angelika was a pleasure to work with. She found me the car I was looking for and it was a very quick and easy process.
Took my car in for warranty work. Treated well by Ainsley. Appreciate her attention to detail while servicing my vehicle. When it wasn't ready the first day, she found me a loaner vehicle for which I was very grateful. She restored my faith in this dealership as I had vowed to never bring my car back here again. New owner hired great staff!
The people at this dealership were friendly and fast. The car that was on their website was actually on the lot.
Always helpful and willing to work with you and financial situation! Most of all the positive attitude that they give you right from the beginning.
I had an excellent buying experience with the whole team at Big Star Cadillac! They were all patient and thorough when it came to helping me trade in my previous vehicle for my Escalade! I will most definitely be back next time!
Steve was great to deal with and even helped us get our rental car turned in. Great customer service.
Benito Sanchez has been the best salesperson I ever had n all different dealerships!!! He always calls us to make sure we were happy n satisfied with our new Cadillac!! This is my 4th Cadillac and we are very please in all services that was done at Big Star Cadillac!! I will definitely come back to purchase another canyon the near future!!!
Big Star Cadillac has great service, highly recommend. I was there today (09/02/22).
George provided excellent communication and customer service, I highly recommended him for any of your vehicle buying process.we need more sales people like him.
I was really needing a new vehicle and within minutes of my online request, Chris Mascorro was able to get very detailed with my options. His service and knowledge was second to none! I really had a great experience and will definitely be ,asking my next purchase through Big Star Cadillac and Chris. I highly recommend Big Star for your vehicle purchasing needs.
David B gave us excellent care and attention. Knowledgeable about his products and transparent with us about those products. Easy financing process as well. Highly recommend David B and Big Star
One of the most professional and customer focused dealerships. You will be very happy if you purchase your next car here!
Service department is efficient and customer oriented. The car was repaired on time. And returned clean.
The whole buying experience from Big Star Cadillac was awesome. It was a pleasure from start to finish and my sales person Angelika was amazing!
Awesome service from Mark. Made the process so smooth. Hassle free in and out in no time.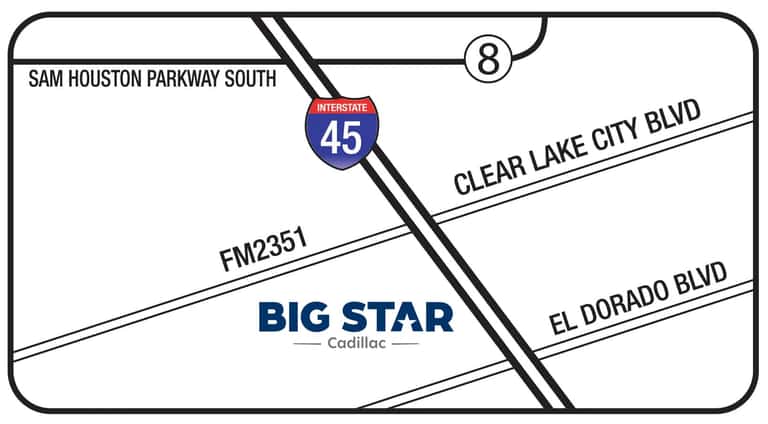 Obtener Direcciones
18100 Gulf Freeway
Friendswood, TX 77546
Bienvenido A Big Star Cadillac
Nuestro concesionario ofrece más que solo ventas y servicio. Visite nuestro departamento de autopartes para encontrar todas las piezas de fábrica de alta calidad para que su automóvil siga funcionando sin problemas, y si está buscando nuestras mejores opciones de financiación para su próximo vehículo, nuestro departamento de finanzas de primer nivel lo tiene cubierto.
Haga una Pregunta