Encuentra Tu Próximo Cadillac
Mantenga su Vehículo con Nosotros
Tenemos un servicio completo con técnicos capacitados a su disposición.
Nuestras Reseñas
Ours salesman Phillip always gives 5 star service. This is my 3rd car sold by him. He is why Big Star is our dealership
They were very helpful when my family came in to make a purchase. They helped not only me but my sisters as well.
Great service, Knowledgeable and courteous staff, excellent. IIIIIIIIIIIIIIIIIIII WWWWWWWW yyyyyyyyyyyyyyy MMMMMMMM BBBBB RRRR FFFFF DDD
Very professional they really know how to take care of their customers. Phillip Conner has been awesome and a very good salesman to us. Extremely happy.
My car salesman was new so there were some errors made. We weren't given all the information that was needed before signing our contract. I also felt like the salesman wasn't doing a good job on trying to close a deal with us. I also noticed he wasn't providing the correct information as he was showing different SUV's. I explained to the young salesman it was a learning experience for him and he now should know the do's and don't. However Big Star Cadillac did correct the issues and made it better even though I didn't leave with the truck I came in for. I have to say this is the second run in I've had with this location. But they make up for their errors and that's why keep coming back.
The dealership was great with my car and loved how they treated me during my visit.
Jeff Dial took very good care of me and my vehicle for service. He kept informed of the latest recall(s) and a coolant leak that the technician discovered, during my service and inspection.
Bobby has been my service rep for years. When I walk in, he knows exactly what I'm there for and about how long I should plan on being there. He quickly finds transportation for me if I need it and keeps me updated on my vehicle. I plan my service visits for when I know Bobby will be there. Excellent Rep!
Excellent customer service which I had received from Big Star Cadillac on my last visit to the dealership. The staff was warm and accommodating, and they were helpful to me. Most important no pressure from sale staff
The dealership is really nice I would recommend Big Star Cadillac to friends and family.
Service is always friendly and customer-oriented. Jeff did a great job. He is always available to answer and explain questions about the service I am having done on my car. Thanks for your patience and help!
Ainsley always provides great customer service and a professional attitude that makes her a great service representative. She is very thorough and knowledgeable about customer care and vehicle maintenance.
Service is always nice, informative, and does a great job with my car. On time.
Mark was responsive, knowledgeable, and customer-oriented from the onset. He was determined without being overbearing, and worked diligently to secure a great deal. Each person I encountered from the manager (Reuben), the finance department (Kelly), and the transporter/driver (Angela) were fabulous. I always felt I was in good hands and I would recommend Big Star Cadillac to anyone. Thank you for helping me get my car! Kudos to the GM (Mike) for an all-around great team effort!
They provide excellent service! I purchased a pre owned Ford Mustang, I had an issue with a leak and the took care of it.
My salesman was amazing. I am happy with my new caddie. Thank you Big Star!
Very professional and courteous customer service.my service technician is very thorough and keeps me updated.
Excellent service and attention, and nice place. The personal are very nice always helping you with everything.
Jose did a great job. He treated me with respect and was very friendly. He provided transportation for me while my car was being serviced. It was a smooth process.
Wonderful experience. Mark Mauricio was great and sold me exactly what I wanted. Traded in my Lexus and will forever buy a Cadillac. God permitting
The big star family has been great to me the service department handling my business very professional and the sales lady that I end up talking to the last time I would do business with her again I appreciate y'all big star Cadillac
Meet our needs, went above and beyond to get the deal we needed,very helpful
The personnel are efficient and friendly. Work is excellent. Dealership is clean. Everyone makes you feel like you are part of their family and an important customer.
Excellent work and very fast and very kind Bobby Thank you so much happy nice day
Took me in immediately and got me a loaner for my engine failure... thank you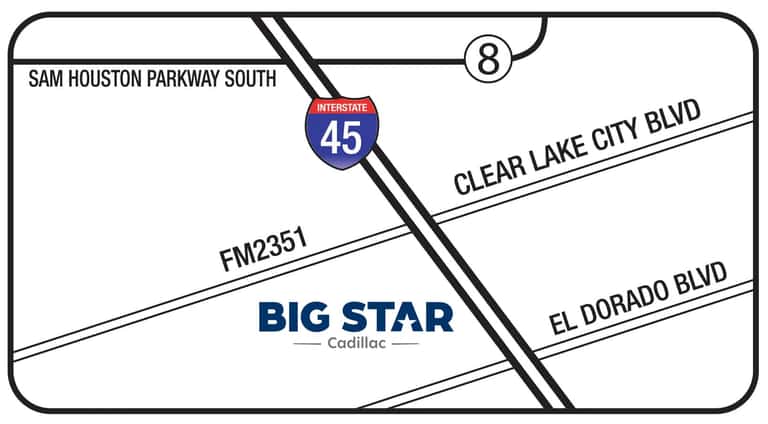 Obtener Direcciones
Ventas Open Today: 9 AM - 8 PM
Taller de Servicio Open Today: 7 AM - 6 PM
Refacciones Open Today: 7 AM - 6 PM
Bienvenido A Big Star Cadillac
Nuestro concesionario ofrece más que solo ventas y servicio. Visite nuestro departamento de autopartes para encontrar todas las piezas de fábrica de alta calidad para que su automóvil siga funcionando sin problemas, y si está buscando nuestras mejores opciones de financiación para su próximo vehículo, nuestro departamento de finanzas de primer nivel lo tiene cubierto.
Haga una Pregunta